In my view, the ideal prime minister is patient, hard-working, compassionate and has a clear vision, driven by the fair go – Julia Gillard
The British mockingly handed over the Prime Minister's post for J.L. Nehru – half expecting him to fail. They were quite sure that he would never be able to contain the fallout of the partition. But he proved them wrong and served for the longest term as Prime Minister for 18 years from June 1946 to May 1964.
Lord Earl Louis Mountbatten 79 the last viceroy was amused when Jawaharlal Nehru handed him an empty envelope instead of a list of names of people chosen by him to be inducted into his cabinet as ministers. It was not a mere coincidence that the 'missing' piece of paper was found just before the swearing-in ceremony. Mountbatten was perturbed to find Sardar Patel's name missing in Nehru's cabinet so he rushed to meet Mahatma Gandhi who was nowhere to be found.
While Nehru was busy taking oath as the first Prime Minister of India, Mahatma Gandhi the frail old father of the nation was 1,500 km away trying to douse the communal frenzy in the riot-torn streets of Noakhali (a part of Calcutta) now in Bangladesh. Mountbatten sought Mahatma Gandhi's help to make it clear to Nehru that unless Patel was inducted into the Cabinet as Deputy Prime Minister, he would find it difficult to run the government.
Mountbatten wanted Gandhi to intervene. Mountbatten believed that Nehru was unfit to rule India and could not deal with the aftermath of the partition and the departure of the British administration. Not known for mincing words Mountbatten later described Nehru and Patel as "a pair of chastened schoolboys".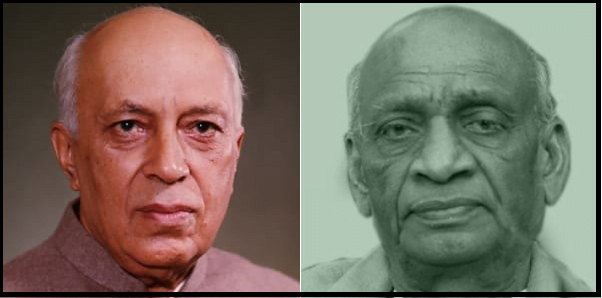 Congress with Nehru or Congress minus Nehru:
This exactly was also the dilemma before Gandhi. He too was confused as to who would be a better Prime Minister – a modernist Nehru or an orthodox Patel?
A majority of people in the Congress party believed that Patel was a better administrator and deserved to be selected as Independent India's first Prime Minister, but Nehru made it clear to him that he was not willing to play second fiddle to anybody. As a result, Gandhi had to step in favour of Nehru which proved to be a costly mistake.
The last date for filing the nominations for the post of the Congress President and the first Prime Minister of India was April 29, 1946. At least 12 out of 15 Congress committees were in favour of Sardar Patel. Not a single Pradesh (state) Congress committee endorsed Nehru's candidature. This is when Gandhi chipped in.
Even Maulana Abul Kalam Azad who had been the Congress president since 1940 was keen to contest, but Gandhi told him to withdraw his name. Meanwhile, Gandhi also asked Sardar Patel to withdraw from the contest. Patel did as he was told, as a mark of respect for Gandhi. This is how the deck was cleared for Nehru to take over as India's first Prime Minister.
Maulana Abul Kalam Azad later acknowledged this in his memoir and made it clear that he regretted the decision to withdraw from the post of Congress President. "It was a mistake…" Azad wrote. According to him even if he did not contest, he should have supported Sardar Patel. Even though he and Patel had differences of opinion on several occasions, Maulana Azad in hindsight was prepared to accept that if he didn't make these mistakes, perhaps the history of India may have been different.
Gandhi was sure that Patel would not oppose anything he wanted but the same cannot be said about Nehru. Gandhi probably believed that Nehru might cause problems in the way of India's independence and may even split the Congress in case he was not made prime Minister.
Even C Rajgopalachary is understood to have remarked that according to him Nehru would have been an ideal Foreign Minister under Sardar Patel as the Prime Minister.
Time has proved beyond doubt that Patel would have been a better PM in place of Nehru. A few days before his death Patel wrote a letter warning Nehru about China's nefarious designs but Nehru ignored the warning a result of which India faced a crushing defeat in the 1962 war. Even the map of present-day India and Pakistan (depicting Balochistan and Kashmir) may have been different had Patel been India's first prime minister.
Speed thrills but Kills:
Once he managed to get into the driver's seat Nehru wanted to lay the foundations of a modern India, but in his urgency to modernise India took many turns which cost India dear. Nehru visited the Soviet Union in 1928, just before being elected Congress president at the Karachi session. He was so impressed by the giant plants built by the Communist regime in just eight years in the agriculture-based economy that he made up his mind that this is what he would do when he became PM.
Sardar Patel, on the other hand, was more practical and lived in the present. He rushed the Indian armed forces to Kashmir, even before the instrument of accession was signed to beat out the hordes of Pakistani infiltrators wreaking havoc in Kashmir. How Indian officers and jawans drove away intruders convinced Maharaja Hari Singh that Kashmiriyat – the culture of Kashmir was going to be safe in Indian hands, so he signed the instrument of accession.
But this is where the similarities end…
Nehru had no idea about the real India. Being from a rich, aristocratic family he had no idea what poverty was and had never confronted it. The first time he came face to face with miserable poverty was in 1936 when he went to a village in Pratapgarh district riding a bullock cart to lead a farmer's agitation as per Mahatma Gandhi's suggestion. The experience left such a strong impression that he had to eradicate unemployment and create more jobs as rapidly as he could. Nehru realised the importance of agriculture in improving the living conditions of the poor, uneducated, and illiterate human beings who remained on the fringe of economic development. This also made him focus on agriculture development, women, and children.
Nehru's model of development was neither right nor left meaning thereby his principle of development was neither too capitalistic nor completely communist. Nehru was not in favour of Communism but supported industrialisation as an employment-generating sector. Seemingly he acquired this prejudice from his proximity to the aristocracy during his higher education in England. After returning to India and becoming PM he gave a free hand and allowed the private sector to take part in the development process but tried to restrict its growth by prescribing a permit to expand or start a new venture. This no doubt led to economic development but at the same time opened the floodgates for corruption. Every permit or license came with demand and gratification.
Over the past 50 years, the 120 public sector odd entities have turned out to be white elephants because they have not been managed as a commercial venture but governed like other government departments under the command of men educated and trained in disciplines that are far from commercial ventures. Most of them were shifted from their government jobs. One can see his prejudices for commercial class again in operation. In a way both Gandhi and Nehru were virtual mirror opposites of each other – Gandhi distrusted technology, not businessmen, and believed that small companies were better than big ones while Nehru's firmly stuck to his guns saying public enterprises were better than private ones. This dilemma in their mind continued to haunt India for years together and ruined it.
Nehru's Planned Economic Development model focused on scarcities and shortages but made no efforts to generate a surplus. Paradoxically despite being an agriculture-based Indian economy, India has never been able to produce enough for the entire population and food shortages are a perennial problem. Nehru and his food minister Rafi Ahmed Kidwai (a leftist) introduced a ration system for sharing the food produced in India and minimising the risk of a 1944 famine which left six million Indians dead, mostly in Bengal.
However, when the Public Distribution system failed to deliver what it promised, Prime Minister Jawaharlal Nehru brought in SK Patil (a rightist) known as the uncrowned king of Bombay to step into the shoes of Kidwai who resigned. Patil found a solution by signing the PL480 agreement for permanent grain charity. Ironically all efforts were made for increasing production and not on improving productivity. The yield per acre is the lowest in India, that too when more than 80 % of landholding is in hands of 12 per cent rich farmers. No efforts have been made to meet the food needs through improved productivity.
The situation is no different in other sectors of the economy.
If the government is to take away a major part of earnings where is the incentive for able-minded and skilled people to produce more? This can make them inactive or evade taxes.
The Planned Economic Development in close air-conditioned rooms has led to huge disparities.
Case # 1: Salman Rushdie's documentary film shows a poor woman making roti earthen Chula on a footpath near Marine Drive in Mumbai. Next to her is a tiny tot playing in dirty rainwater. The focus shifts to a kitchen on the sixth floor of an opposite building where a well-dressed woman is taking out kebab pieces from her oven. A kebab piece falls when a small puppy pulls the edge of her sari. The puppy catches it and runs away from the window. There cannot be a more glaring example of disparity. The film also depicts how trawlers and plastics used to make baskets and net strings have destroyed the lives of thousands of women who made baskets and repaired nets for a living. Rahul Gandhi acknowledged this lacuna in a gathering of big businessmen that the biggest mistake today is that plans are made by people who haven't met the masses to ask them about their real needs.
There is a marked difference between the three generations. Nehru allowed both left and right-minded people in his administration who were in awe of him that no minister or IAS officials could occupy a chair in his presence except Maulana Azad. The English tutors who taught Nehru at home poisoned his mind that attending a school in India might contaminate his mind, body, and soul. As a result, over the years spent attaining higher education in England, Nehru remained aloof from the Indian student community. Later in his letters to his daughter Indira Gandhi – Nehru openly confessed to having learned about India only from Azad.
Case # 2: Most of the political jokes during his era depict him as a teacher surrounded by a dunce or those who pretended to be one in his presence. For instance, C. Rajagopalachari – the first Indian Governor-General and later Chief Minister of Madras opposed the name of Rajendra Prasad as the first President of India on the plea that his dhoti may cause embarrassment in the presence of visiting foreign dignitaries. Nehru took this seriously and asked his sister Vijaya Lakshmi Pandit to be ready to replace Rajendra Prasad. However, Aruna Asaf Ali came to know of this and accompanied Vijaya Lakshmi Pandit to meet Maulana Azad. Azad reportedly had a long and sharp talk with Nehru at the end of which Nehru did not dare disturb, Dr Rajendra Prasad, as the President of India.
According to political pundits, Dr Rajendra Prasad (Rajaji) fell out with Congress's views in the Nagpur Congress session in 1956 and launched a new party to protect small and medium farmers and traders, a year later. He also openly wrote in his weekly article that Nehru was his own worst enemy as he couldn't tolerate criticism. To dispel his fears Nehru flew to Madras to explain things in person but by then it was too late and Rajaji refused to meet him.
Case # 3: Another failure of Prime Minister Nehru was that he strived to improve higher education facilities and eight Indian Institutes of technology but made no attempt to improve the primary, middle, and secondary education systems.
Case # 4: When the East India Company found it exorbitant to import and maintain British clerical staff they started inducting local Indian Babus at lower levels. This created a big problem as virtually everything in India even prayers were made orally – and there were no other means of communication in the Indian context. Over ninety per cent of Indians did not feel the need to write or read. Most of them could recite Gayatri Mantra orally without a single mistake or pause to recall the next line. This was all that mattered.
Case # 5: The British devised the education system to create a pool of enlightened men. Their aim was not to produce scholars. In the past 70-odd years, we haven't changed the education system to meet the deeds of vocation or induce scholarly ability. Nehru added another dimension when he sanctioned reservations in higher education to satisfy a large section of Dalits. This has promoted a lack of understanding of the human psyche and imposed unfair placement in the highly competitive field.
It is a well-known fact that the human psyche develops not only in schools but also from additional and corresponding aspects derived from the social environment. Kids in rich or middle-class families with educated parents have an added advantage as compared to those from economically weak, socially backward families without any worthwhile learning aid in their social environment. Also, what happens to other children who cannot reach even the primary school level?