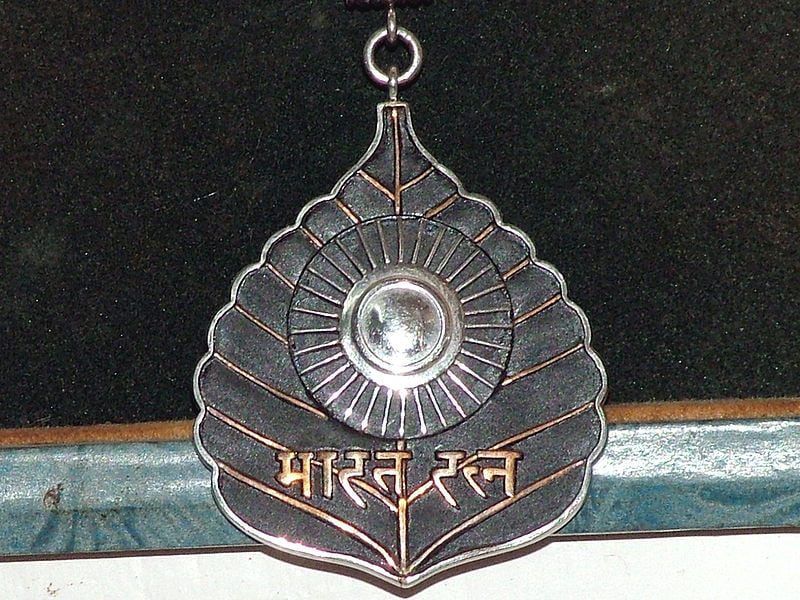 Truth is sometimes stranger than fiction. Many strange things that have happened India, since Independence. From Patna Railway station and Gandhi Maidan being mortgaged by then Chief Minister Jagannath to atleast three members of the Nehru family unashamedly awarding the Bharat Ratna to themselves.
Bharat Ratna literally meaning Jewel of India is India's highest civilian award. At least 45 people have been conferred with the prestigious award- 12 posthumously. India's second Prime Minister Lal Bahadur Shastri was the first to be honored posthumously.
The award is conferred "in recognition of exceptional service/performance of the highest order", without distinction of race, occupation, position, or sex. Bharat Ratna awardees rank seventh in the Indian order of precedence.
Each recipient gets a Sanad (certificate) signed by the President, peepal-leaf–shaped medallion; nut no money.
As per protocol the President can confer the award to a maximum of three awardees per year on the recommendation made by the Prime Minister Office PMO.
The first Bharat Ratna award was given in 1954 – C. Rajagopalachari, S. Radhakrishnan and C. V. Raman, were the first awardees.
Initially there was no provision for giving the award posthumously but the rules were changed in 1955 to permit posthumous awards. This paved the way for political manipulation of the award to honour K. Kamaraj (1976), M. G. Ramachandran (1988), Vallabhbhai Patel (1991) and Madan Mohan Malaviya (2015) and B. R. Ambedkar to woo the gullible voters to coincide with assembly elections. Interestingly both Madan Mohan Malaviya and Vallabhbhai Patel died, much before 1954 when the award was initiated.
Sachin Tendulkar, at 40 was the youngest recipient; while Centenarian Dhondo Keshav Karve was the oldest. So far the "Bharat Ratna" has been awarded to three outsiders Mother Teresa (naturalised citizen), Khan Abdul Ghaffar Khan (Pakistan) and Nelson Mandela (South Africa).
This is really ironic since no effort has been made to confer "Bharat Ratna" upon father of the nation Mahatma Gandhi. A PIL was filed in the Karnataka High Court seeking directions to the Ministry of Home Affairs was dismissed.
On the other hand, Morarji Desai unashamedly accepted the Bharat Ratna which his own Janata Party government had discontinued as being worthless and politicized
The real mockery is how Jawaharlal Nehru (1955), Indira Gandhi (1971) and Rajiv Gandhi (1991) recommended their own names to the President of India for the award.
Curiously Indira Gandhi the only child of India's first Prime Minister, Jawaharlal Nehru who started as her father's personal assistant and hostess during his tenure as prime minister (1947-1964) received the award without doing anything significant.
She became Congress President in 1959 and become a cabinet minister in Lal Bahadur Shastri government after her father's death in 1964. In 1966 following Shastri's death she contested the elections in 1966 and became prime minister of India, defeating Morarji Desai.
It might be recalled that whatever good (victory 1971 war) or bad (emergency: 1975-1977) she did happened after— not before the award.
Eminent political observers recall how President V V Giri bypassed all norms to recommend Indira Gandhi again for Bharat Ratna after the 1971 war.
Like wise Rajiv Gandhi who got 1000s of IPKF troops killed in Sri Lanka (1987) and burnt his fingers in the Bofors scandal. It damaged his credibility so much that children openly went around shouting "Gali gali main shor hai, Rajiv Gandhi Chor hai". This resulted in a major defeat for his party in the 1989 elections.
But after his assassination, his widow Sonia became Congress party, president in 1998 and led the party to victory in the 2004 and 2009 parliament elections. His son Rahul a Member of Parliament became Vice President of Congress party in 1991. Soon Rajiv Gandhi was posthumously nominated for Bharat Ratna, the country's highest civilian award.