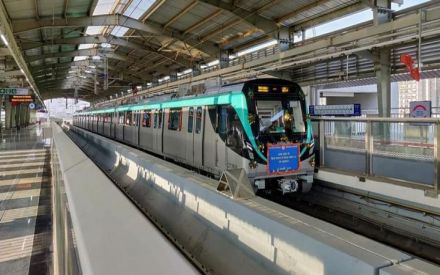 Compare Infobase the parent company of MapsofIndia.com is associating with Noida Metro Rail Corporation Ltd. to develop and install digital maps of NMRC network which may be displayed at the of Noida Metro Rail Headquarters and other premises.
As part of the understanding Compare Infobase will be accountable for labor and other related work for developing digital maps which would be installed at the Noida Metro Rail premises. The purpose of these digital maps is to help users to efficiently use the metro which includes the function of the stations as well as the interchange between lines.
Compare Infobase Limited (CIL) is an e-incubation company based in New Delhi, having a subsidiary called MapXL, Inc at San Jose, California, U.S.A. It came into being in 1998 keeping in mind various e-businesses with a focus on mapping.
CIL focuses on custom mapping solutions and other map-related services both in the domestic and international market. Mapsofindia the business unit of CIL strives to take care of the mapping needs of India and the world.
The Noida Metro Rail is the fifth longest operational network after Delhi Metro, Hyderabad Metro, Chennai Metro and Namma Metro. It commenced operations in July 2018 and connects Noida and Greater Noida in Gautam Budh Nagar, Uttar Pradesh.
This rapid transit network consists of Aqua Line which serves 21 stations, including 15 stations are in Noida and the remaining six in Greater Noida besides linking Noida-Greater Noida Expressway with the highways in Delhi and surrounding towns.
Speaking on the development, Compare Infobase Ltd, CEO, Simarprit Singh said, "Mapping is the best example of a mashup between art and science. It requires consistency and accuracy to be credible and current to be of any use. At Compare Infobase, we believe quality comes before quantity and solving client's problems is the only way to succeed."