Today, Advantek Fuel Systems Private Limited is known for its innovative, environment-friendly solutions and pollution control kits for OEMs, engine manufacturers and aftermarket fleet conversion specialists. It is a market leader and reputed player in fuel conversion systems, switches, sensors, electronic engine management controllers, natural gas handling components and automotive software. Vishal Singhal, Director, Advantek Fuel Systems is highly motivated and passionate about automobiles… a man who loves to walk the untrodden path and try new things…They say instead of blood — petrol, diesel or CNG runs in his arteries and he is always dreaming of ways to develop new concept cars and buses. Vishal Singhal spoke to TAAZAKHABAR NEWS on a range of issues concerning the Indian automobile industry: Excerpts:
Would you like to comment on the Advantek ethos – Green Earth, Blue Sky?
Given a chance, anyone would want to serve society but not everyone can take out time for such activities. We are happy to be in a profession that helps the environment by reducing pollution and make our customers save big on fuel costs. The letter 'E' in the Advantek logo conveys our concern as Engineers for the Environment. The colors blue and green depict our ethos or commitment to – convert waste to energy, provide clean mobility, as well as preserve a Green Earth and clear Blue sky.
What's your view on the future of mobility? What kind of technological changes like smart, hybrid, connected, electric, and autonomous vehicles can we expect to see in the next decade or so?
I believe all fuels will co-exist. They will be more efficient and will find the most suitable applications for themselves. Technologies are now more focused on horizontal penetration from one field to the other as the case of mobile phones, tabs, and home automation. So, why not in vehicles? Vehicles in the near future will become gadgets and apart from serving the primary function of mobility will behave like any other device around us.
Is it true that instead of blood — petrol, diesel or CNG runs in your arteries and veins and unlike others, you dream innovative ideas for cars and buses? Since when have you have been having this obsession or passion?
Yes, I always wanted to be an automotive engineer. It is like playing football and getting paid. The best thing that can happen to anyone is when passion becomes your profession. When I was in school I used to buy automobile magazines and have a collection of over 1000 magazines. I always compared cars with the human body like the heart as engine, the brain as ECU, eyes as front camera, etc. This was the inspiration that made us use obsolete automotive parts like Wiper in place Door closer, petrol filling nozzle as water tap, or used connecting rods as railing holders…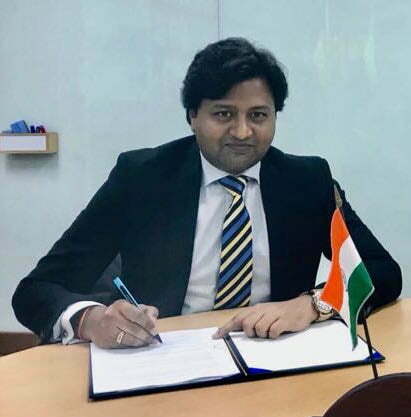 What is the most spectacular innovation that you have conceived so far or intended to do in the near future?
We feel proud to have introduced a number of innovative products like Integrated Tank Valve Regulator (ITVR) that removes all high-pressure joints from CNG vehicles and Super-Fast Fill Valves to reduce fill time by half. But according to me, the best innovation was to make a tractor run on CNG instead of Diesel. I believe if we do something for farmers, it may change the whole Country. I would like to make two-wheelers in the future, based on the functioning of the human body which offers less resistance to the ground, unlike the existing two-wheelers. When we walk – only one foot is on the ground, at any time but our wheel-base increases as we run.
What kind of push and pull strategies you are implementing to move and develop the Indian market – one of the largest and most exciting markets for clean energy?
Clean energy is the need of a Country today. This is something that everyone has realized. As far as we are concerned, we are contributing to resolving the problem on one side by improving the availability of clean fuels, reducing the fill time, adding more storage, power/torque, and serviceability that is at par or better than the conventional fuels those existed for generations. On the other side, we are trying to spread awareness in the public at large about the environmental benefits, fuel efficiency as well as better health and saving of money for those who opt for substitute or clean fuels.
There is a saying that – when good times don't last, even bad ones wouldn't. Do you see light at the other end of the tunnel for the Indian Automobile industry grappling with one of the worst slowdown, negative growth, and recession in recent history?
Currently, the market is very confused in between new emissions norms to be implemented by 1st April this year as well as different fuel options offered and talked about. We believe Customers have kept their investments on hold to understand more about their best fit case. I believe that initially the market will shake and shift from one technology to another before it settles down. When that happens, all doubts will get clarified and during this shift – some fuels will gain, while others may lose before the overall demand increases. As far as the clean fuel segment is concerned, we see a big, growing and untapped market ahead for us.
What kind of changes can we expect to see in the transport sector after April 1, 2020, the deadline for adopting the BS-VI emission standards? I believe many of the automobile companies have stopped production of BS-IV vehicles to ensure that their BS-IV stock is completely sold out before the BS-VI deadline which will reduce BS-IV vehicles to scrap.
Everyone has learned a lot from the last episode of BSIV implementation. So I hope we should this time ideally we should expect a more organized, planned and efficient shift-over. Yes, some percentage will become obsolete and need to be scrapped but that would be sacrificing some to gain much more and in such a small number that it wouldn't hurt the industry much. The time available between BSIV and BSVI was too short hence the main issue is how to ramp up and improve the readiness of the service industry.
Is it true that you were ready with BS-VI compatible engine many years ahead of the market?
Yes, most of our applications meet BSVI without any changes in the main engine or vehicle hardware. In most cases our part number changes in only 10-15%.
Do you support the assumption that CNG is the fuel of the future?
Yes, we 100% support it. We are ambitious about Natural Gas. It can be – CNG, LNG or RNG (CBG). RNG is an important fuel that is generated from waste which is abundantly available and the biggest problem in India. This is evident from the government's implementation of the Swachh Bharat Mission. The wet waste generated in most municipal areas is enough to be used to generate 100% renewable fuel or power to run or operate all the city buses in that region.
Why is Natural Gas or CNG a better, cheaper, cleaner and more efficient alternative than petrol or diesel?
Natural Gas is abundantly available on earth and can be efficiently produced from organic waste. It is much cheaper than conventional fuels. In spite of the fact that there are no government subsidies on Natural Gas Vehicles – it is readily accepted by the public because of fuel efficiency and cost-saving without compromising the performance. Today it is the only readily available, mature and clean fuel solution.
Is it true that the ignition temperature of CNG (540⁰C) is — much higher than petrol (360°C) and diesel ( 280°C) hence CNG vehicles are less flammable, safer and less likely to catch fire as compared to other fuels. Even in the event of a leak, CNG is lighter than air, dissipates into the atmosphere, unlike petrol or diesel which form pools on the ground and are a potential fire hazard?
CNG is very safe in any form as it needs higher ignition temperature and a narrow air-fuel ratio to burn. Being lighter than air, it is safer than any conventional fuel. Recent Technology advancements are offering more safety features in CNG vehicles than on Diesel or Gasoline. Our technologies have reduced leak joints on vehicles by 60-80% from industry benchmark.
It has been observed that the vehicles running on CNG emit 80% less carbon monoxide, 45% fewer hydrocarbons or harmful byproducts like sulfur, and heavy metals adversely affect the performance of motor vehicles. Is it also true that apart from being an environment-friendly fuel, cars and buses powered by CNG run quieter than petrol and diesel vehicles, thus also leads to less noise pollution?
Compressed Natural Gas or CNG is clean, safe, and sustainable fuel found naturally underground or captured at the landfills due to the decomposition of trash that we throw away every day. It's one of the cleanest burning fuels known to mankind and just needs to be captured and pumped through the natural gas pipelines. It does not emit any carbon, sulfur, smoke, or particulates. It's chemical formula– CH4 – shows that it contains only one atom of carbon and four atoms of hydrogen – which means that the 'carbon footprint' of CNG is significantly lower than other liquid fuels like gasoline (C8H18 + 25 O2) or diesel (C12H23), respectively which have 8 or 12 carbon atoms. The combustion of CNG produces CO2 and H20 – or carbon dioxide and water, unlike gasoline or diesel. Use of simple & proven 3way catalyst and proper air-fuel ratio control can improve fuel consumption and reduce the exhaust emissions of CNG down to the minimum – within the BSVI limits. To meet BSVI norms complex technologies like SCR are not needed in the case of CNG. Above all, CNG is an anti-knock fuel and NVH of gas-based engines is much lower than conventional fuels.
Is it true that the transition to BS-VI emission norms, may inflate the price of petrol vehicles by Rs 10-20 thousand (or more), and by over a lakh for diesel vehicles because of a higher cost of upgrading diesel vehicles to BS-VI norms?
In 2017 BSIV was introduced all over India (7 years after it was introduced in selected cities). That increased the Diesel vehicle cost due to the introduction of Electronic Fuel Injection and PDF as a minimum. Now with BSVI, the cost has increased further due to complex exhaust after-treatment and the cost per kilometer has increased by 5-7%. That bridges the gap between CNG and Diesel vehicles in terms of investment and pay-back. CNG vehicles are self-promoted now.
How does the CNG market in India differ from that in some of the western countries? Don't you think CNG has always been considered an add-on not a substitute to petrol or diesel?
Indian Customers are very different than of West having Fuel Economy as the key selection criteria so CNG fits in best. Our engine sizes are much smaller than Western World's average and we don't have mature discipline in the field. Hence, Technologies from the western world cannot be adapted as is in India. Due to the availability of CNG in specific geographical locations, it was not considered as main-line fuel and so far Gas could penetrate only in city operations. But our recent developments like Long Range Buses with >1200 Km range and Heavy Duty Trucks it will touch all applications and expand geographical boundaries. 90 more cities are getting added to the CNG grid.
As an automobile component manufacturer, what kinds of stocks are you expected to maintain in your inventory? Are they all fast-moving products and what kind of minimum quantity orders do you look for from the consumers?
Though so far our market is much smaller than of Liquid fuels and doesn't follow standard automotive trends. When a new city is added to the CNG grid, we see a sudden increase in demand for a couple of years and eventually, it gets saturated. We have to predict the market trends to stock material now instead of depending on our Customer's forecast. We are in this business by choice not by chance so we should know this market than anyone else. We have invested significantly and localized most long lead items in India to react faster to anticipated demand increase.
Do you agree with the perception that the Indian Automotive industry by and large is not inclined to change with time and instead of R&D to develop new, internationally competitive prototypes — Indian automakers always keep guessing what the government is going to do next and accept it as the gospel truth? In other words, if they feel that the government is promoting electric vehicles, they too dump CNG and start singing praises of electric vehicles…
No doubts that we are in a highly confusing situation right now. A lot of money is spent parallel to developing the same applications with different fuels and technologies. I have never seen that before. I think BSVI implementation at a short notice along with the implementation of EV has caused more confusion. Once BSVI is implemented successfully in the next few months there will be a relief. The customer doesn't care about fuel but effective cost and payback. We have seen that during the Petrol Car market shift-over to Diesel SUVs in the past where the cost of the vehicle was little more but compensated by cheaper fuel. But the government could push it back partially to Petrol by limiting the life of Diesel vehicles in a few cities. CNG is a different case though and is taking all the benefits of EV drive creating awareness and will for Cleaner fuels. The government has no purpose to dump CNG as there are no subsidies.
What is the latest update on electric vehicles? Ideally, the EVs cost at least Rs 1 lakh more than petrol vehicles. Only fleet owners can operate and recover such investments. Apart from all this, there are a number of issues like battery technology, as well as the creation of the right ecosystem for parts and charging infrastructure/grid management. Wouldn't you agree that to translate this into a successful and sustainable business model – a mindset change is required?
We all know EV looks very attractive from outside but still needs huge work from all the stakeholders. It is not like Apple winning with touch screens against Blackberry overnight. India is a different market and two factors are very important here first is customer's need and whosoever satisfies that efficiently will win and second is government funding that is not enough for long so we shouldn't depend upon. Customers in India learn to patiently live with problems and anyone who discovers their problem and offers solutions can win them over. If I leave problems and gaps with CNG and EV solves them, then EV is the winner. But if I work on solving those problems with my existing technology, then the Customer will go with something proven. Let's see who learns and solves problems faster.
What kind of quality control mechanisms have you incorporated in your automated production process and how do you ensure that each client can actually look in – to see what stage or process the product being manufactured for them is at that moment in your production plant?
We are now working on our way of Industry 4.0. We always follow what others have done and don't work on making our baseline stronger. Everyone uses Standard of Production written in English or other languages on assembly lines without knowing whether workers are educated enough to read and understand them. So our first task was to make it digital and more interactive to make the best use of it. We have created a cloud for our customers to get reports, traceability, etc. in real-time from our production process to make it easier and transparent.