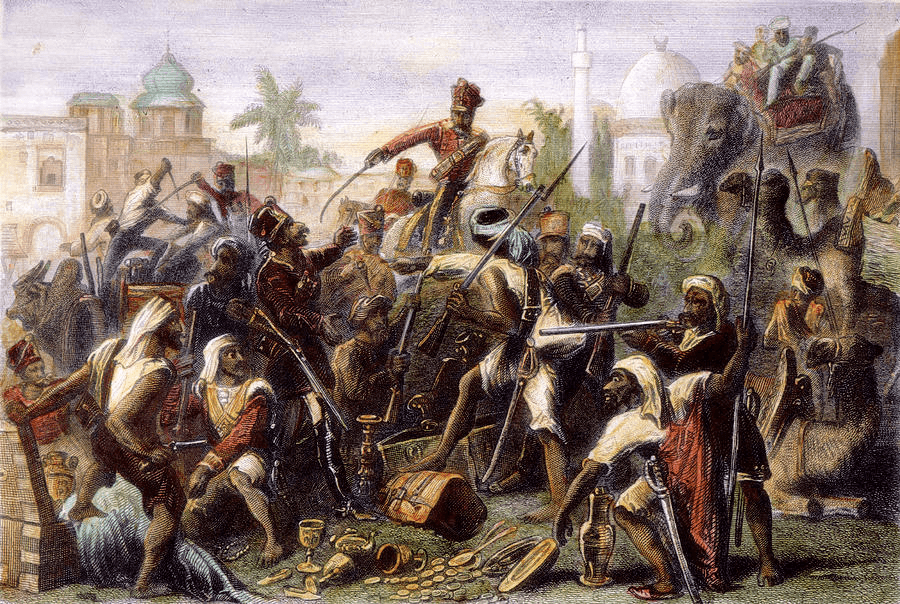 Indian Rebellion of 1857 started when a group of sepoys rebelled against the introduction of rifle cartridges that were allegedly greased with lard (pig's fat). This offended the Muslim soldiers because they are not allowed to eat pig's meat in Islam as well as it offended the vegetarian Hindu soldiers. The uprising spread rapidly in the surrounding areas of Delhi against the British. The prominent leaders of the 1857 uprising include:
MANGAL PANDEY: Mangal Pandey was an Indian soldier who played an important role in 'India's First War of Independence' in 1857. Recruited as a soldier (sepoy) in the 34th Bengal Native Infantry (BNI) regiment and a staunch Brahmin by faith, Pandey lost his cool when he was ordered to bite off the ends of cartridges for the new Enfield rifle greased with cow and pig fat. On 29 March 1857 29-year-old Mangal Pandey rebelled against his commanders at the Barrackpore parade ground, near Calcutta. Sergeant-Major James Hewson went to investigate, but Pandey shot him. Likewise Mangal Pandey opened fire when Lt. Henry Baugh the unit's adjutant came out to investigate the unrest, but missed and hit Baugh's horse instead.
That's when General John Hearsey came to the parade ground and ordered Jemadar Ishwari Prasad the Indian soldier posted outside the unit's quarter guard to arrest Mangal Pandey, but he refused. Even the other sepoys present at the quarter guard expressed their solidarity and refused to arrest Mangal Pandey. They were in a mood to defy their superiors but for a sepoy called Shaikh Paltu who came forward to overpower, and prevent the belligerent Mangal Pandey. He was eventually rewarded with promotion to the rank of havildar but was mysteriously murdered.
Mangal Pandey tried to take his own life, pointing his musket at his chest and pulling the trigger with his toe but failed and only managed to wound himself. He was court-martialled and hanged on 8 April 1857. Jemadar Ishwari Prasad was tried and hanged on 22 April, while the regiment was stripped off its uniforms and disbanded because of the perception that the troops might continue to grudge or harbour ill-will towards its Officers.
Even today Mangal Pandey finds a well deserved place in Indian history as a hero. The government of India issued a postage stamp in his honour in 1984 and his life has been portrayed in several film and television programs.
BAHADUR SHAH ZAFAR: or Bahadur Shah II (born as Mirza Abu Zafar Siraj-ud-din Muhammad) (24 October 1775 – 7 November 1862) was the last Mughal emperor. His empire was limited only to the walled city of Old Delhi (Shahjahanbad). Bahadur Shah Zafar was tried on the charges of treason and exiled to Rangoon, Burma (now in Myanmar) where he died in 1862.
RAJA NAHAR SINGH TEWATIA (1823–1858) the 32 years old king of Ballabhgarh a princely state founded by Jats of Tewatia clan in Faridabad District of Haryana, 20 miles away from Delhi. He revolted against the British rule, and refused to extend any help to District Collector William Ford, who was collecting forces to curb the uprising. He joined the forces led by Emperor Bahadur Shah and actively recruited infantry or cavalry soldier to revolt against the British. He was involved in recruitment of forces, collection of funds and ordered his small army to take over Palwal, from the British forces during the 1857 uprising. He is known to have secured the road from Delhi Gate (Delhi) to Bhadrapur (Bharatpur) and drove the British away from Pali (Rajasthan), Palwal and Fatehpur, as per his letters to Bahadur Shah Zafar dated 22 May and 25 May 1857. The British established a Military Commission, to prosecute him and recovered a large number of weapons, horses, bullocks, carts, rifles, dresses and other war material from his fort. He along with his Army commander Gulab Singh Saini was hung in Chandni Chowk on 9 January 1858 and his estate was forfeited.
Even today the day Raja Nahar Singh the hero of India's First War of Independence (1857), was hanged by the British is celebrated as Balidan Diwas (The Day of Sacrifice) and India Post issued a postal stamp in his honor. Nahar Singh Mahal in Ballabhgarh, Nahar Singh Stadium in Faridabad which has hosted several International Cricket Matches and Shaheed Maharaja Nahar Singh Marg a road near Wazirpur Depot in Delhi are named him. Raja Nahar Singh metro station in Violet line is also named after the matyr. Every year Raja Nahar Singh cultural festival is held by Haryana Tourism at Nahar Singh Mahal, during the Kartik month.
BAKHT KHAN: (1797–13 May 1859) a Pashtun belonging to the Yousafzai tribe found in Pakistan, and eastern parts of Afghanistan was commander-in-chief of the rebel forces in Delhi during the Indian Rebellion of 1857. Born in Bijnor, Rohilkhand and later became a subedar in the army of the East India Company, and had over 40 years of experience in the Bengal horse artillery and First Anglo-Afghan War.
When Subedar Bahadur Khan heard of the rebellion in Meerut, he proceeded towards Delhi to support Bahadur Shah Zafar's army with the Bareilly Brigade which included- four regiments of Bengal Native Infantry, one cavalry regiment and an artillery battery. By the time he reached Delhi Bahadur Shah Zafar was proclaimed Emperor of India. Bahadur Shah gave him the title of Saheb-e-Alam Bahadur, or Lord Governor General making him the virtual commander of the sepoy forces.
Bakht Khan had to overcome many problems – the first and foremost being financial, to solve it he obtained the Emperor's authority to collect taxes. The second problem was logistics – which became more acute with the passage of time. The British had many spies and agents in the city who were constantly pressurizing Bahadur Shah to surrender. The rebels' lacked the organization, supplies and military strength. On 14 September, the British assaulted Kashmiri Gate, Bahadur Shah fled to Humayun's Tomb before surrendering to the British against Bakht Khan's advice, on 20 September 1857. The emperor was arrested and the Mughal princes were executed.
On 13 May 1859, Bakht Khan was mortally wounded and died. He was buried in the graveyard of Nanser, then part of Swat; now in District Buner, Khyber Pakhtunkhwa Province of Pakistan.
NANA SAHIB: Balaji Bajirao Peshwa also known as Nana Saheb was a Peshwa (prime minister) of the Maratha Empire in India. Nana Saheb's childhood associates included Tatya Tope, Azimullah Khan and Manikarnika Tambe who later became famous as Rani Lakshmibai of Jhansi. Tatya Tope was Nana Saheb's fencing master while Azimullah Khan later became the dewan in Nana Saheb's court. After the death of King Baji Rao II, as his adopted child Nana Saheb was eligible for the Maratha thrown and annual pension of £80,000 from the East India Company. However, the Company stopped the pension on the grounds that he was not a natural born heir. Nana, was greatly offended by this and sent Azimullah Khan as an envoy to England to plead his case before the British Government. However, Azimullah Khan returned back to India disappointed in 1855. Nana Sahib silently held this as a grudge so he bluffed Charles Hillersdon, the Collector of Cawnpore into believing that he would assemble a force of 1,500 soldiers to support the British, in case the rebellion spread to Cawnpore. In June 1857, when the rebel soldiers attacked Cawnpore, the British troops had to take refuge in the northern part of the town. Amid the chaos, Nana and his men entered the British magazine. The soldiers of the 53rd Native Infantry, guarding the weapons didn't resist as they thought that Nana had come to guard the weaponry on behalf of the Company. However, Nana Saheb has other things in mind and announced his support for Bahadur Shah and his rebel soldiers. Nana Saheb is remembered even today for his leadership in the 1857 uprising. Nana Saheb's rebels forced the British garrison to surrender and controlled Cawnpore for a few days till the British defeated his forces and regained Cawnpore. Nana Saheb escaped to Nepal where he is believed to have died.
KUNWAR SINGH – Born to the Maharaja and Maharani of Jagdispur (currently Bhojpur District, Bihar) Kunwar Singh was one of the prominent leaders of the first war of independence in Bihar. He was 80 year old when he occupied Azamgarh (now in UP) and despite being badly injured defeated the British forces led by Captain le Grand in a battle near Jagdispur. Kunwar Singh took charge of the sepoys stationed at Danapur cantt and laid siege of the district headquarters at Arrah till the British forces under Major Vincent Eyre recaptured Arrah and ransacked Jagdispur. A master in the art of guerrilla warfare Kunwar Singh kept harassing the British forces for almost a year. Once, while crossing the Ganga River, Kunwar Singh was shot at by the British. The bullet hit his wrist. The 80-year old Kunwar Singh, unwaveringly cut off his hand but died of injuries three days later on 26 April 1858 passing on the mantle to his successor and brother Amar Singh II. He is remembers even today as Veer Kunwar Singh because of his courageous fights against the British despite the odds against him. In 1966, the Government of India released a stamp in his honour.
TATYA TOPE – born in a Marathi Brahmin family and Tatya Tope (Tope, means commanding officer) was a prominent leader of the 1857 Rebellion. A confidante of Nana Saheb Peshwa of Bithur, he forced British General Windham to retreat from Kanpur city and later helped Rani Lakshmibai of Jhansi to seize Gwalior. However, before he could consolidate his position, he was defeated by General Rose in a battle in which Rani Lakshmi Bai was killed. He was master in the art of guerrilla warfare and made life miserable for the British forces, but the fall of Gwalior was a turning point in his career. He was defeated by General Napier's troops at Ranod. At last he was betrayed by his trusted friend Mansingh and captured by the British army on 7th April 1859. "What I did was for my mother and I have no regrets", he said boldly. He was hanged by the British Government at Shivpuri on 18 April 1859.
RAO TULA RAM- equated as the Subhash Chandra Boseof Haryana — Rao Tularam was born in a family of Jagirdari from Rewari and palyed a part in the 1857 revolt. He was just 14 year old when his father died. Just before the Mutiny of 1957 Rao Tula Ram captured the revenue office and other government buildings before proclaiming himself as Raja of Rewari, Bhora and Shahjahanpur parganas before proceeded to support Bhadur Shah Zafar.
To consolidate his position, he reorganized the administration and set up an efficient revenue collection system besides expanding his army from 500 to 5000 men within a span of few months and setting up a foundry for making small arms and ammunition at Rampur fort. He also elicited the support of the rajas of Ballabgarh and Bhadurgarh and nawabs of Jhajjhar, and Farrukhnagar. But after the fall of Delhi, on Sept 20, 1957 Brigadier-General Showers led a column of 1,500 men, a light field battery, 18 two-pounder guns and two small mortars to capture Rewari and liquidate the Rampur fort. Rao Tularam realized that the mud fort of Rampura was militarily difficult to protect hence he made a strategic retreat to engage the British on more open grounds. Despite knowing that defeating the British army was next to impossible Tularam rejected the British offer to surrender in exchange for amnesty.
Soon Rao Tula Ram returned to Rewari to take on the British who sent a column of 1500 men commanded by Col Gerrad. The armies met at Nasibpur, close to Narnaul where Rao Tularam ambushed the British forces – mortally wounding Col Gerrad and sending the English camp in disarray. However unfortunately in the end Rao Tularam was defeated, not by the British, but by his own countrymen from Jaipur, Alwar, and Nabha and Patiala princely states who sent reinforcements to help the beleaguered British forces. After the battle, Rao Tula Ram moved to Rajasthan and joined Tantya Tope's forces. After the failure of the 1857 revolt all over India, Rao Tularam escaped to Iran in the guise of a saint/ hakim by ship from Bombay and requested the Shah of Iran for military help. The Shah expressed his inability to offer any military help to Rao Tularam. But though the British demanded Rao Tularam to be handed over to them, the Shah refused. Rao Tula Ram then moved to Afghanistan and sought help from the Amir. Amir Mohammad Khan gave a state reception to Rao Tularam and also assured help but unfortunately Rao Tulraram died at the age of 38 in Kabul. The Amir ensured that Rao Tulraram's ashes were sent to Rewari. Rao Tula Ram marg – a road in Delhi is named after him.
ALI BAHADUR II NAWAB OF BANDA: the Nawab of Banda (present day Uttar Pradesh) was the grandson of Shreemant Peshwa Bajirao I (the ninth Peshwa of the Maratha Empire) – a Brahmin and Mastani a Muslim. Bajorao wanted his son Shamsher Bahadur to be accepted as a Hindu Brahmin and named him Krishna Rao but Bajirao's mother Radhabai was hostile to Mastani and her child and therefore insisted on maintaining the boy's Muslim identity. So she renamed him as Shamsher Bahadur and ensured that he was never accepted into the Hindu family by the Maratha elders who were not prepared to accept Mastani as the Peshwa's legitimate wife. However Shamsher Bahadur remained loyal to the Maratha throne throughout his life and participated in the third battle of Panipat along with Peshwa Balaji Bajirao against the Afghans in 1761. Both he and his brother Balaji Bajirao were killed in the battle. Continuing his legacy his son Ali Bahadur played a prominent role in the 1857 revolt. He was initially a friend of the British but decided to help Rani Laxmibai of Jhansi who sent him a rakhi. So he sent 1000 soldiers and 300 gunners to Rani Laxmibai and 1000 soldiers to Tatya Tope to fight against the British. This defiance cost the Nawab and his decendants dearly. The British abolished the Banda estate and withrew their pension of four lakhs rupees before exiling them for life.
UMRAO SINGH BHATI: King of Dadri Riyasat Rao Umrao Singh Bhati – a Gurjar from Bulandshahr was a great freedom fighter of 1857 revolution. He led a small band of rebel Indian soldiers in Bulandshahr and Gautam Budh Nagar against the British troops under the East India Company.
According to Rao Sanjay Bhati a descendent of the Raos of Dadri a small princely state in pre-Independence India, there was intense fighting for two days near the Hindon River. The British then burned down the villages and havelis and gave capital punishment to 84 people from Dadri, who were labelled as "ring-leaders" for their efforts in the war of 1857. These martyrs who died in the 1857 war include- Rao Umrao Singh from Dadri, Himmat Singh from Ranoli, Jhandu Zamindar from Nangala Nainsukh, and Rao Roshan Singh, and Rao Bishan Singh.
Finally on 10 May 1857, the Indian army, police and farmers got together against the East India Company's government. On May 11, the rebel army reached Delhi and declared Mughal emperor Bahadur Shah Zafar – the King of India.
DHANSINGH KOTWAL was the kotwal (police chief) of Meerut, who switched sides and led the 1857 rebellion against the East India Company in Meerut. On 10 May 1857, when a rebellion broke out in Meerut many police officers including Dhan Singh decided to join the rebellion. Dhan Singh and his fellow policemen led the rebel sepoys to Meerut jail and released 839 prisoners who went on to participate in the Siege of Delhi. As a mark of respect DG, UP police O P Singh recently unveiled a statue of Dhan Singh Gurjar in the Sadar police station premises in Meerut. According to him, a chapter on Dhan Singh Kotwal is being added in the police training text books, and a documentary is being made to promote his story of bravery and martyrdom to the public. Apart from this a separate section in National Police Museum in Delhi, a community centre at the Charan Singh University, a gate at the Subharti University Meerut, and a Mahavidyalaya in Loni, Ghaziabad – are being named after him.
RANI LAKSHMIBAI – Manikarnika Tambe, popularly known as Rani Lakshmibai or the queen of Jhansi, is remembered was one of the frontline leaders of the Indian Rebellion of 1857. Wife of King of Jhansi, Raja Gangadhar Newalkar her name is engraved in the pages of Indian history. Born in a Marathi Karhade Brahmin family from Varanasi, he father was an employee of Baji Rao II of Bithoor. Her childhood friends included Nana Sahib and Tantia Tope. They learnt shooting, horsemanship and fencing, together with each other. Rani Lakshmibai was blessed with a son Damodar Rao, who died within four months of birth. After his son's death, Gangadhar Rao adopted a cousin's child Anand Rao, and renamed him as Damodar Rao. Unfortunately the Maharaja died the very next day. Lord Dalhousie refused to acknowledge the child and annexed the state under the Doctrine of Lapse. The Rani refused to accept the decision as a fait accompli and fought the British with Damodar Rao, strapped behind her back and swords in both hands. The gallant queen died while fighting a squadron of the 8th Hussars under Captain Heneage, on June 18, 1858, in Kotah-ki-Serai near the Phool Bagh of Gwalior.
BEGUM HAZRAT MAHAL- the second wife of Nawab Wajid Ali Shah – also known as Muhammadi Khanum or Begum of Awadh, was a very brave lady who dared to rebel against the British during the 1857 Rebellion. She took over the administration of Awadh and Lucknow after the British sent her husband in exile to Calcutta and declared her son, Prince Birjis Qadr, as the Wali (ruler) of Awadh. Lord Dalhousie applied the Doctrine of Lapse and ordered her to surrender. She resisted and raised an army of women under Uda Devi. She actively took part in the 1857 revolt but was forced to retreat. After the fall of Lucknow she escaped to Kathmandu where she was initially refused asylum by Rana Jang Bahadur, but later allowed to stay there. She died in 1879 and was buried in a nameless grave in Kathmandu's Jama Masjid. On 15 August 1962, an event was organized to glorify her at the Victoria Park in Hazratganj, Lucknow. The park was renamed after her and a memorial was constructed, with a marble tablet and four round brass plaques bearing the Coat of Arms of the Awadh royal family. On 10 May 1984, the Government of India issued a commemorative stamp in her honour.
BIRJIS QADR- the son ofNawab Wajid Ali Shah and Begum Hazrat Mahal was the last and probably the Nawab of Awadh for the shortest duration from 1857 to 1858. In 1856 Qadr's father Wajid Ali Shah was overthrown by the British in the pretext of mis-governance, and exiled to Metiabruz, Calcutta (present-day Kolkata). After the exile, Begum Hazrat successfully led the Awadh forces against the British in the Battle of Chinhat during the 1857 Sepoy Mutiny and sieged Lucknow. On 5 June, Begum Hazrat Mahal declared her eleven-year old son Birjis Qadr as the Wali (ruler) of Awadh. Qadr subsequently wrote to Mughal emperor Bahadur Shah I, asking for confirmation of his regency, which was granted, and Qadr was awarded the title of Wazir. This led to intense spat with Lord Dalhousie who refused to accept Birjis Qadr as the Nawab of Awadh. Begum Hazrat Mahal declined a British offer for mercy, and pension. She also continued to issue orders and plan another armed struggle against the British from a local fort in the name of Qadr – offering monetary rewards to those killed injured or in battle. In May 1858, Qadr wrote a letter to Jung Bahadur Rana, Prime Minister of Nepal, requesting him to send his troops to fight the British in Awadh. The Rana refused to get involved and instead advised Qadr to surrender and seek pardon from the commissioner of Lucknow Henry Montgomery Lawrence. However soon when most of the leader of the 1857 Sepoy Mutiny were either defeated or captured by the British, both mother and son had to flee to Kathmandu. After arriving in Kathmandu, Qadr again wrote to Rana for asylum. Despite his initial hesitance, this time the Rana relented and allowed the mother and sone to stay at Barf Bagh, a palace in Kathmandu. According to some historians in lieu for provided refuge to Qadr and his mother the Rana bought Rs 40,000 rupees worth of jewels from them for a mere 15,000 rupees. While in Nepal, Qadr married, Bahadur Shah Zafar's granddaughter Mehtab Ara Begum and fathered two sons, and three daughters from her. Some three decades later the British pardoned Birjis Qadar and allowed him to return to India. A few years after the death of his exiled father, Qadr moved to Metiabruz, Kolkata where he, his son Khursheed and about five of his close confidantes were poisoned by jealous relatives at the Arabagh Palace on 14 August 1893. Curiously Birjis Qadr's pregnant wife Mehtab Ara Begum didn't go for the dinner because she wasn't feeling well.
THAKUR VISHWANATH SHAHDEO – was the king of Barkagarh estate who led the rebels in the Indian rebellion of 1857 against the British East India Company's forces in Ranchi. Against their onslaught the British had to flee but eventually counterattacked and hung Thakur Vishwanath Shahdeo and his accomplices from a tree. Even today the more than 200-year-old fort near Ranchi, which was the epicentre of the freedom struggle against the British army, is shrouded in mystery. Nobody dares to go inside the 'cursed' fort of King Jagatpal Singh – barely 25 km away from Ranchi. The local people claim the fort situated near Pithoria village is cursed because of which mysterious lightning strikes the Fort at the same place each year. According to local folklore this is because of the misdeeds of Jagatpal Singh the king of Pithoria who aligned with the British and betrayed the Indian freedom fighters. This is why the fort with close to 100 rooms is today in a ramshackle condition and the lightning will continue to strike the fort till it collapses, the locals say. According to historians in he mid 18th centuary the Chota Nagpur area was a famous center of trade hence the British made friends with the King of Pithoria who was given the title of Raja Bahadur to further their business interest. However when the tribals from the Chota Nagpur region picked up arms and engaged in guerilla warfare against the East India Company during 1857, King Jagatpal Singh unashamedly supported the British and helped them arrest Thakur Vishwanath Shahdeo and other freedom fighters. Eventually Shahdeo and his associates were hanged but not before they cursed Jagatpal Singh that thunder will strike his fort till it is totally demolished and he will also not have any progeny. Interestingly, since that day thunder strikes the fort and damages it year after year.
PANDEY GANPAT RAI: was a Kayastha zamindar from Lohardaga district of Bihar (now a part of Jharkhand). His uncle Sadashiv Rai was Dewan of Nagvanshi Maharaja Jagannath Shahdeo of Chota Nagpur who appointed Ganpat Rai as his dewan after his uncle's death. He did not like the British presence in the region and interference in his work, so he tried to convince Maharaja Jagannath Shahdeo to oppose the British but did not succeed. On the contrary, because of his hatred for the British he was dismissed so he started organizing like-minded people to seek revenge. He along with Thakur Vishwanath Shahdeo and Nadir Ali Khan managed to raise an army of mutinying sepoys with Ganpat Rai as its commander-in-chief. The heavily forested and hilly terrain allowed them to easily hide theselves while making life miserable for the British officials. This led to numerous skirmishes and battles including the Battle of Chatra in which British troops assisted by Sikh sepoys besieged the village of Chatra. Eventually their luck ran out and they were captured in March 1858. They were hanged by the British on April 21 for taking part in the 1857 uprising. Today the governments of Jharkhand and Bihar are making many efforts to preserve the memory of Pandey Ganpat Rai. In 2012, the Jharkhand government organised the redevelopment of Pandey Ganpat Rai's village in Lohardaga district. Accordingly a Ganpat Ray Memorial Badminton Championship was inaugurated in 2018.
TIKAIT UMRAO SINGH: the king of a small kingdom of Bandhgawa in Ranchi (present day Jharkhand) and his dewan Sheikh Bhikhari earned the wraath of the British for opposing their plan to cut trees in the chutupal ghati. He and his brother Ghasi Singh also played a pivotal role in preventing East India Company force from occupying Ranchi during the 1857 Indian rebellion. The British force hanged him and his dewan Sheikh Bhikhari from a banayan tree in Chutupalu Ghati, Ramgarh. The Ranchi district administration is commemorating the 152nd death anniversary of Raja Tikait Umrao Singh and his dewan Sheikh Bhikari by developing their native villages.
SHEIKH BHIKHARI: was the Dewan and general in the army of Tikait Umrao Singh. He and Tikait Umrao Singh prevented the East India Company force from occupaying Ranchi by cutting trees of chutupalu ghati. To take revenge the British hanged him and Tikait Umrao Singh from a banayan tree in chutupalu ghati of Ramgarh in 1858. Even today a College of Education and cricket tournament is held to honour Shaheed Sheikh Bhikhari.
JUNG BAHADUR KUNWAR RANA: Bir Narsingh Kunwar popularly known as Jung Bahadur Rana was a Chhetri Rajput ruler and founder of the Rana Dynasty in Nepal. One of the most controversial figures in Nepalese history and palace politics, he is known for the calculated manner in which he eliminated all his rivals and planted his cronies to important posts, and himself took all major administrative decisions as the prime minister. Known for his friendship with the British, he travelled to Britain, France and Egypt, and refused to attack the British soldiers on the plea of Begum Hazrat Mahal and her son Birjis Qadr but later relented and allowed them to stay at the Thapathali.
DHIR SHAMSHER KUNWAR RANA: Dhir Shamsher Rana or Dhir Shamsher Jang Bahadur Rana – the youngest brother of Jang Bahadur Kunwar Rana, was the Commander-In-Chief of the Nepalese Army from 1879 to 1884 A.D. and led the Nepalese Army in the Nepalese-Tibetan War and in the Indian Mutiny of 1857. He led 3000 Nepalese troops to Lucknow, Benaras and Patna to suppress Indian Mutiny of 1857. As per the orders of Jung Bahadur Rana the Gorkha soldiers under Dhir Shamsher's command restored the British authority in Lucknow, Gorakhpur, Bihar, Azampur, Jaunpur, Allahabad and Oudh. But Dhir Shamsher personally did not like the British and opposed Jang Bahadur's move to support British in the Indian Mutiny.
SIR SYED AHMED KHAN: an Islamic reformer and philosopher in British India, Sir Syed Ahmed Khan established the MAO College which eventually became the Aligarh Muslim University. Ahmad promoted the adoption of Urdu as the mother tongue of the Muslims and strongly influenced Muslim leaders like Allama Iqbal and Jinnah. During the 1857 Rebellion, he remained loyal to the British Raj and saved European lives. After the rebellion, he penned a booklet called Asbab-e-Baghawat-e-Hind (The Causes of the Indian Revolt) in which he analysed the causes behind the Indian revolt. In this book he rejected the common notion that the conspiracy was planned by Muslim elite who resented the diminishing influence of Muslim monarchs. On the contrary he blamed the British East India Company for aggressive expansion as well as the ignorance of Indian culture. Sir Syed advised the British to appoint Muslims to assist in administration, to prevent what he called 'haramzadgi' (a vulgar deed) such as the mutiny. Syed opposed the Indian National Congress and repeatedly called upon the Muslims to loyally serve the British. He served the East India Company as a judge at a Small Causes Court between 1867 -1876 and went on to lay the foundation of many schools and institutions like the Gulshan School at Muradabad, Victoria School at Ghazipur and Muhammadan Anglo-Oriental College, the first Islamic university in Southern Asia. Even today many universities and public places in India and Pakistan bear his name.