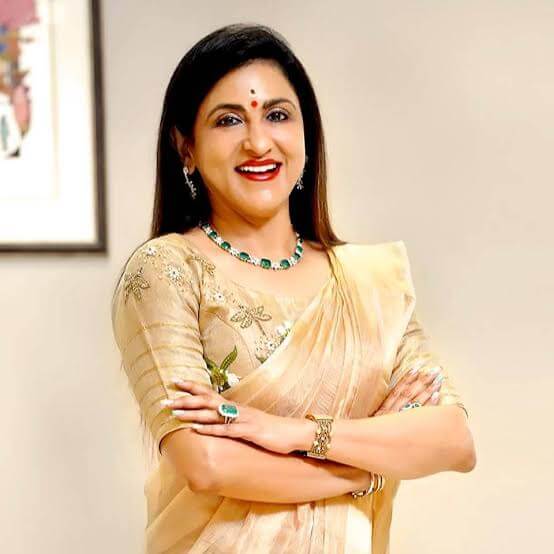 This is the most remarkable story of the transformation of Beena Kannan from a frail, young widow to a dynamic and successful woman entrepreneur.
Beena Kannan is one of the most talked-about fashion designers from South India. She is today carrying forward the legacy of her grandfather Veeriah Reddiar who started the family business of Kanchipuram silks in 1910. Today her brand 'Seematti' stands for the finest designer wedding silk saris and apparel for men.
Beena Kannan took the helms of Seematti at a fairly young age after the death of her father V. Thiruvenkitam and husband Kannan. It was the most difficult phase of her life – both emotionally and financially as the over 100-year-old family business was not doing well and the family was in debt.
Any other women in her place would have collapsed, but Beena decided to move forward with grit and determination.
Just three days after her husband's death Beena took over the reins of the business. A few people at that time admired her courage, while many others made fun of her foolishness and predicted a gloomy future for Seematti in the hands of the inexperienced woman.
With practically no one to guide her, Beena decided to single-handedly breathe fresh life into the financially unstable empire and single-handedly put Seematti back on the world map. She took baby steps– saved every penny and spent carefully. She spent hours and years intensely studying the trends in the silk industry and established a good rapport with the silk traders all over the country.
Her sole aim is to create a niche for the indigenous Kanchipuram silk sarees across the globe and preserve this culture-rich ethnic fabric. She meticulously researched and designed innovative and distinctive motifs using rich silk yarns defining the quintessential traditional Indian bride.
This way moving forward one step at a time Beena Kannan not only revolutionized Seematti but also revolutionized the entire Kanchipuram silk industry!
Soon, she became one of the most acclaimed Kanchipuram silk saree designers in India.
Beena Kannan entered the Guinness Book of Records and Limca Book of Records in 2007 for the longest — half a km long silk sari created by her. Her saree designs were launched in the UAE and the US in 2007 and 2009 respectively. In September 2011, Beena Kannan-designer sarees walked the "Swarovski Elements 2011″ Ramp. She conferred with the "Lifetime Achievement Award" by the Coimbatore Erode Weaving community in 2009.
Celebrities like Mandira Bedi, Urmila Matondkar, Sneha, Rima Kallingal, Deepika Padukone, Jacqueline Fernandez, Liza Haydon, Sameera Reddy and Sonali Bendre have been either ambassadors or showstoppers in Seematti's communication and Fashion shows from 2006-2015.
Beena Kannan is now aiming to take Kanchipuram to new heights and open new doors across the globe for her label. Her eponymous label- 'Beena Kannan', features ethnic and timeless merchandise. She aims to showcase the charm of Kanchipuram through her designer collection featuring not just sarees but a diverse range of apparels and accessories for both men and women. In short Seematti's vision is to be a one-stop-shop for the bride and groom for their wedding purchases under a single roof.
Beena Kannan truly believes that there is no point 'chasing success. It will come to you if you are passionate about what you do.'
This is the mantra that has helped her retain her cool through the most stressful periods of her life.