Treachery by Pakistan
Kargil hills shot into prominence in the spring of 1999 because of "Operation Badr", a covert plan hatched by the then Pakistan army chief, General Pervez Musharraf.
The Pakistani Army carried out armed intrusions in the early part of 1999. Occupied vacant posts and heights (which were traditionally unoccupied), overlooking the National Highway (NH) in Turtuk, Batalik, Kargil, and Dras sectors. The Pakistani Army used the peak winter months to invade. At that time of the year, patrolling by the Indian armed forces was minimal.
The intrusions had taken place in rugged and inhospitable terrain and under inclement weather conditions of the high-altitude area. At the heart of the Pakistani operation was the hope that a surprise invasion would allow them to capture India's NH 1D — the only link between India and Ladakh. If the plan succeeded, Pakistan would effectively take over Jammu and Kashmir. The Zojila pass on the NH-1D, remains closed for seven months in a year from Nov to May. It remains open to traffic only for 5-6 months in a year, from Jun to Oct, for stocking and maintenance purposes.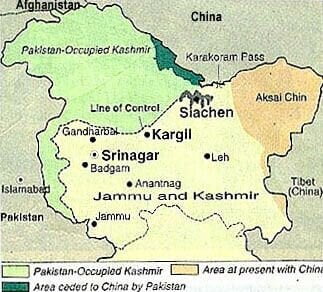 Indian posts along the LOC at the mountain peaks were vacated before winter. The Pakistani did likewise on their side of the LOC. There was an understanding between the two sides due to inhospitable living conditions at posts 14000 to 18000 feet high, with heavy winter snowfall cutting them off from the rest of the world. These posts were again reoccupied during summers. Most of the roads to these posts were either non-motorable or non-existent. Surveillance by high technology equipment such as unmanned aerial vehicles (UAV) was not there.
Pakistan Army took advantage of these shortcomings, especially lack of Indian troops during winters, and intruded into Mashkoh, Dras, Kargil and Batalik sectors between Zojila and Leh. They crossed the LOC and encroached 4-10 km into the Indian territory and occupied a large number of vacated Indian posts. Pakistan wanted to cut off the highway connecting Srinagar with Leh, thereby cutting off Ladakh and Siachen- a move India did not expect.
According to India's then COAS, General Ved Prakash Malik, and many other scholars, much of the background planning, including the construction of logistical supply routes, had been undertaken much earlier. On several occasions during the 1980s and 1990s, the Army had given the Pakistani leaders (namely Zia ul Haqq and Benazir Bhutto) similar proposals for infiltration into the Kargil sector. Still, the plans had been shelved for fear of unacceptable escalation.
Some analysts believe that the blueprint of the offensive was reactivated soon after Pervez Musharraf was appointed COAS in Oct 1998. After the war, Nawaz Sharif, then PM of Pakistan claimed that he was unaware of the plans and that he first learned about the situation when he received an urgent phone call from Atal Bihari Vajpayee, his counterpart in India. Sharif attributed the plot to Musharraf and just two or three of his cronies, a view shared by some Pakistani writers who have stated that only four generals, including Musharraf, knew of the plan. These four were called 'Kargil Cabal'.
Till date, it remains unclear whether PM Sharif knew about Musharraf's Kargil plan. Even if he was aware, there is no clarity regarding the degree of information he had. "Was the PM (Sharif) in the loop … was he informed? Whatever I've gathered from various sources, he was briefed, but not the whole story. So, even while the Lahore bus ride by our PM in Feb 1999 was happening as a goodwill gesture, the generals were preparing for Kargil."
After the Indian media started reporting skirmishes in the Kargil, Dras and Batalik sectors, the Pakistan Army finally briefed Sharif on 17 May. But even then, Sharif was not informed about the Army's involvement, only that it was providing logistical support to mujahideen.
Late in the summer of 1998, India's spies began reporting unusual events along the line of control in Kargil. Pakistani troops were being pumped in, high altitude posts were being reinforced, and new minefields were being laid by the enemy. From his headquarters in Leh, GOC 3 Infantry Division, Major General Budhwar saw the warnings but ignored it and took no concrete action. An unpardonable folly.
The Srinagar state intelligence bureau (SIB) had become increasingly concerned about the Kargil sector from the summer of 1998. Later IB informants reported the deployment of M-11 missiles and laying of new minefields. RAW said new Pakistani troops had been pumped in. Though these inputs were available, the senior leaders failed to put these bits of information together to get a coherent intelligence picture.
Finally, in Apr 1999, local commanders conducted an exercise to test the impact of Pakistani attack – ironically enough just as the Pakistani intruders were entrenching themselves in the Kargil heights. Major General Mohinder Puri, GOC 8 Mountain Division played the role of Pakistani Army Chief. Towards the end of the exercise, the group war-gamed a brigade strength assault on the stretch between Zojila and Kargil. However, commander 15 Corps, Lt General Kishan Pal and commander Northern Command, Lt General HM Khanna dismissed the idea. Early in 1999, 9 Mahar was moved from its counter-infiltration position in Yaldor sector and stationed at Leh. 26 Maratha Light Infantry, charged with the protection of Maskoh – Dras sector was also pulled back. Brigadier Surinder, Commander 121(I) Brigade protested and warned of the scarcity of troops to guard the area of responsibility.
Despite losing approximately a quarter of its troops, to commitment elsewhere, the 121(I) Brigade did what it could. Troops were withdrawn from Mashkoh area in the winter of 1999. Yaldor was left undefended, and so was Kaksar. Even after fighting broke out, top commanders refused to engage with reality. In the second week of May 99, the army commander told the media accompanying the defence minister to Leh that "infiltrators will be thrown out in 48 hours". At a meeting in Srinagar on 17 May 1999, Lt General Kishan Pal insisted that there was no concentration of troops on the Pakistani side and there were no battle indicators of war or even limited skirmishes. He further said "the situation is local and would be dealt with locally" – a gross miscalculation.
Pakistan's preparations for its intrusion into Kargil sector had started six months back. They had used Northern Light Infantry troops (NLI), all of whom were recruited from the northern areas. They were allowed to speak on the radio in their local languages. The regiment wore salwar kameez, or another local dress and all communication were civilian with no military terminology being used. The aim of this was to mislead the Indians into thinking that militants were grouping to infiltrate into Kashmir valley. We had to requisition the Pashto speaking experts from army headquarters to understand their conversation through radio intercepts.
The winters were mild during 1998-99. Despite this, the brigade sent out no patrols during Jan to Apr 99 in most of the areas. Though some patrols were sent, they were confined to the nallahs, and there was no patrol programme for the heights. The reason for this is inexplicable. At this time, the enemy was patrolling on the altitudes, and physical occupation was going on.
When foot patrolling was suspended during winters, winter air surveillance operations (WASO) was carried out by aviation helicopters for surveillance of the mountain tops. Mashkoh valley sector was classified as priority four sector (low priority sector), despite intelligence warning of its expected use as infiltration route by the enemy. Priority four meant that Mashkoh got only one sortie in three weeks because no trouble was expected there during winters. Such callousness and lowering the guard proved to be an expensive proposition, and we had to pay heavily for these lapses.
There was relatively mild snowfall in 1998-99, due to which Zojila pass which generally opens in early Jun was opened on 22 April, though no traffic was put through till 06 May. This premature opening had considerable importance in the coming months. Pakistan Army was well aware that Zojila pass would not open until early Jun, therefore the national highway would remain blocked till then. It would prevent any form of reinforcements from Sonamarg side, and any way of reinforcements from Leh would take considerable time.
Our intelligence assessment went wrong since it catered for infiltration by anti-national elements and not for intrusions into our territory. Secondly, valleys were considered more likely routes of infiltration vis-à-vis ridgelines. Thirdly, large scale intrusion by regular forces, through existing gaps in deployment, resulting in the occupation of ridgelines dominating NH 1D, Dras town and other significant population centres was not considered as likely enemy aim/objective.
Indian intelligence agencies have enjoyed a dubious reputation of having failed to provide timely warning of the things to come. However, every commander regardless of the size of his command, should be aware of what is happening in his area of responsibility. Hence, the failure over Kargil intrusions was the responsibility of 121(I) Brigade, 3 Infantry Division, 15 Corps, Northern Command as also the Army Headquarters, the Ministry of Defence and the Indian government.
There are some critical questions to be asked? Why did RAW not know about what was brewing in Pakistan Army for so long? Why did IB have no clue of what was afoot? Why were additional troops meant to check infiltration were not allotted to Mashkoh and Batalik sectors as was done during previous years during summers? What was 121(I) Brigade doing while NLI and SSG were busy patrolling and occupying heights in the brigade sector? Why patrols were restricted to only nallahs and no patrols were sent on the altitudes? Why did WASO patrols fail to identify anything unusual happening? Why did our senior leaders fail to assess the battle indicators correctly? While the credit must be given to NLI for their skill in camouflage and concealment and a high standard of discipline in avoiding detection, the holding brigade has much to answer! Indian Army had no defensive positions above Mashkoh nallah.
To know more about the war read the book MASHKOH: KARGIL AS I SAW IT.