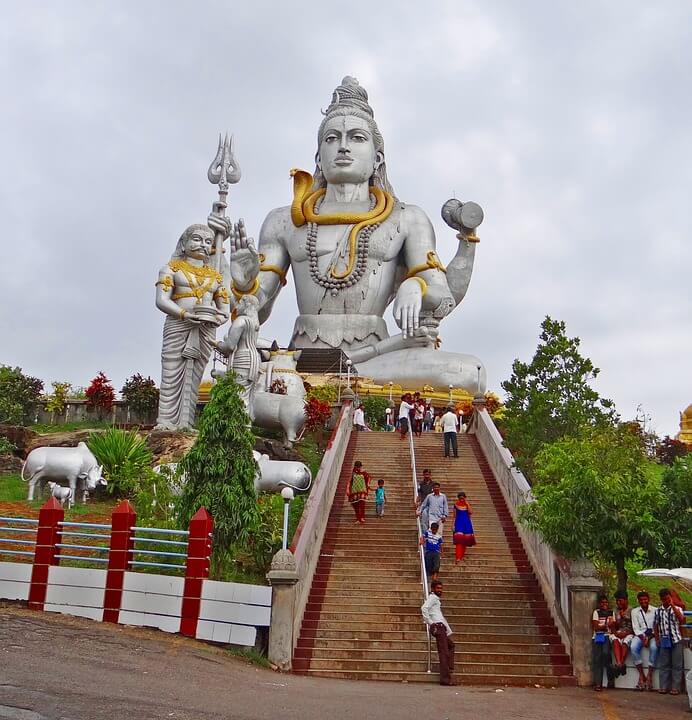 Lord Shiva – the god of creation and destruction also known as Mahadeva meaning Supreme Being is one of the principal deities of Hinduism. He is one of the most powerful and widely worshipped Gods in the Hindu trinity. He is the centrifugal force of the universe and symbolises 'shakti' or power. The attributes of Shiva are — serpent around his neck, a crescent moon and holy Ganga in his matted hair, the third eye on the forehead, in addition to Trishul (trident) and damaru (drum) in his hands. There are many Shiva temples and followers all over the world in India, Nepal, Sri Lanka and Indonesia, especially in Java which draws its name from the Sanskrit name Java-dvipa (Yavadvipa) and Bali.
The tallest statues of Lord Shiva around the world include the following:
Shivoham Shiva Temple, Bangalore – 65 feet
This temple located in the heart of Bangalore has a 65 feet tall statue of Lord Shiva seated in a lotus position — a yogic posture with Mount Kailash in the background, and the holy Ganga flowing from his matted locks as well as a 15 feet tall statue of Lord Ganesha holding a modak in his hand. Disciples often tie saffron-coloured thread near Lord Ganesha to seek remedies for their problems. The temple also has a man-made holy Amarnath cave and 12 Jyotirlinga — Somnath, Mallikarjun, Mahakaleswar, Omkareshwar, Kedarnath, Bhimashankar, Vishwanath, Trimbakeshwar, Baidyanath, Nageshwar, Rameshwaram, and Grishneshwar for devotees who can't go there because of health reasons.
Lord Shiva, Kachnar City, Jabalpur, Madhya Pradesh– 76 ft
A towering 76 ft tall idol of Lord Shiva in sitting posture under the open sky at Kachnar City in Jabalpur is one of the highest Lord Shiva statues in the country. It is built on top of a cave which has the replicas of 12 Jyotirlinga collected from various Lord Shiva shrines throughout the country. The statue is white in colour but appears blue at night because of special lights. There is a statue of Nandi in front of the Lord Shiva statue.
Keeramangalam – Tamil Nadu – 81 feet
An 81 feet statue of Lord Shiva is situated at Meinindranaadha swami Temple, near Keeramangalam a panchayat town in the Pudukkottai District of Tamil Nadu. The Meinindranaadha swami temple is one of the 100 temples in the city. Lord Shiva is known as Meinindranaadha swami in Tamil Nadu.
Khajjiar Shiva Statue, Khajjiar, Chamba, Himachal Pradesh – 81 ft
An 81 feet tall statue of Lord Shiva at the Jagdamba Mata Temple in the Dhauladhar Mountain Range at Khajjiar famously called the Switzerland of India on the Dalhousie – Chamba road is the tallest statue of Shiva in Himachal Pradesh. It took more than 2 years, for the idol-makers from Rajasthan to carve the 81-foot-high idol of Lord Shiva. The glistening statue made out of bronze is a sight to behold.
Nageshwar Mahadev Statue, Dwaraka, Gujarat –82 ft
An 82 feet statue of Lord Shiva also known as Nageshwar Mahadev is one of the main attractions of the Nageshvara Jyotirlinga temple in Daarukavanam city some 15 km away from Dwarka in Gujarat. It is one of the twelve sacred jyotirlingas mentioned in Shiva Purana including Somnath (Gujarat), Mahakaleshwar (Ujjain, Madhya Pradesh), Rameswaram (Tamil Nadu), Srisailam (Andhra Pradesh), Vaidyanath (Deogarh, Jharkhand), Omkareshwar (Madhya Pradesh), Ghrishneshwara (Aurangabad, Maharashtra), Trimbakeshwar (Nasik, Maharashtra), Kedarnath (Uttarakhand), Bhimashankar (Pune, Maharashtra), Kashi Vishwanath (Varanasi, Uttar Pradesh) and Nageshwar Temple (Dwarka, Gujarat). According to legend, anyone who prays at the Nageshwar Jyotirlinga temple becomes free from the adverse effect of all poison and snake bites. This is why the temple is also called Nagnath temple. It is said that Mughal emperor Aurangazeb tried to destroy the temple but failed each time his army attacked it because of a swarm of bees which appeared out of nowhere and bit them. Eventually, he gave up and the Nageshvar Jyotirlinga temple was saved. It is said that Gulshan Kumar the owner of T Series was so perturbed by the delipidated state of the old temple that he donated money for building a new Nageshwar temple on the same premises.
Adidev Shiva Statue, Rawatpura Shridham, Madhya Pradesh — 85 ft
An 85 feet high statue of Lord Shiva in meditation posture with a Damru in his hand has been built at a cost of Rs 3 crore at Rawatpura Sridham, Madhya Pradesh. Shiva's trident is installed behind the statue and Nandi is seated in front. It took 15 craftsmen about two-and-half years to construct this gigantic statue of Lord Shiva made out of Cement-concrete and rods weighing about 150 tons. The statue has been finished with zinc polish to protect it from the adverse effects of rain, heat and cold.
Statue of Lord Shiva, Shivagiri, Bijapur, Karnataka–85 ft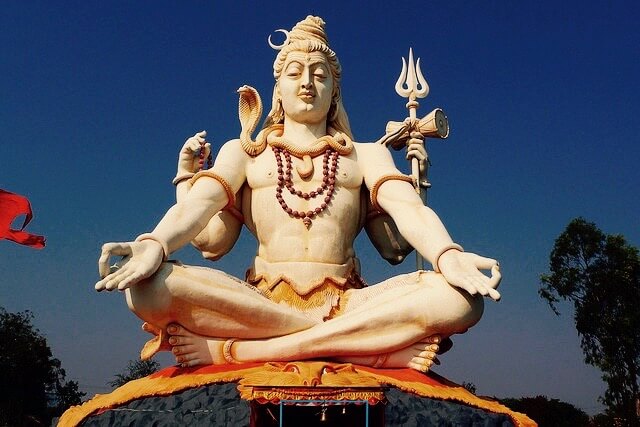 An 85-foot-tall 1,500-tonne statue of Lord Shiva made out of cement and steel is located on the Sindagi Road around 3 km from Bijapur City in Karnataka. It is the second largest statue of Lord Shiva in Karnataka and used to be one of the biggest statues of Lord Shiva in India. It took the sculptors and traditional craftsmen from the Shimoga district of central Karnataka about 13 months to complete. A small idol of Shivalinga is installed beneath the big statue with "Shiva Charite" inscribed on the inner walls of the temple in Kannada to help devotees learn the mythological stories related to Lord Shiva.
Lord Shiva Statue at Har Ki Pauri, Haridwar, Uttarakhand, 100 ft
A magnificent 100 feet statue of Lord Shiva on a small island at Har Ki Pauri literally meaning the Footstep of God on the banks of the sacred river Ganga in Haridwar is a famous landmark of the city. This enormous statue of Lord Shiva in standing posture has a trident in hand and a snake in the neck.
Mangal Mahadev Statue, Gangtan, Sampla Beri Road, Haryana 101 ft
It is a 101 ft tall statue of Lord Shiva in standing posture with his Trishul in the Mangal Mahadev Birla Kanan Temple at Gangtan, on NH-8 in Haryana. This temple is famous for the statue of Lord Shiva and other deities like Lord Rama and Sita, Radha-Krishna, Goddess Parvati, Lord Kartikeya, Lord Ganesh and Nandi. All these idols are made of bronze.
Lord Shiva Statue, Siddheswar Dham, Namchi, Sikkim –108 ft
A 108 feet tall statue of Lord Shiva is located on top of the Solophok hill at Siddhesvara Dhaam also called Solophok Chardham is situated 5 km away from Namchi or about 78 kilometres away from Gangtok in Sikkim. The statue of Lord Shiva in sitting posture is encircled by replicas of the 12 Jyotirlingas and the four Dhams namely Jagannath, Badrinath, Dwaraka and Rameswaram. The 7-acre temple complex also houses an 18-feet statue of Kirateshwar a hunter incarnation of Shiva. No wonder it is one of the top tourist destinations, especially among the devotees of Lord Shiva in Sikkim.
Shiva Statue, Pokhara, Nepal, 108 ft
A 108 ft tall Shiva Statue at Pumdikot a hill station near Pokhara is the tallest and biggest statue of Lord Shiva in Nepal. The statue itself is 51 feet tall and rests on a white stupa that is 57 feet high — making the entire structure 108 feet high. There are 108 Shiva Lingas at the base of the statue. The statue was built in Mathura, India and then transported to Nepal for installation. The Pumdikot Shiva statue is located at an elevation of 1500 meters from sea level in the southern part of Pokhara. Another attraction of the Pumdikot Shiva Temple is the largest Damaru in Asia. All this makes Pumdikot Shiva Temple one of the major attractions for domestic and international travellers. To visit the Shiva Statue one has to pass through a theme park and an attractive garden with a 108-steps.
Mangal Mahadev Statue, Mauritius – 108 ft
Mangal Mahadev a 108 feet tall statue of Lord Shiva on the banks of Ganga Talao (Grand Bassin) a crater lake in the Savanne district is considered the most sacred Hindu place in Mauritius. It is the tallest statue in Mauritius and a replica of the Shiva statue in Sursagar Lake in Vadodara, Gujarat. There are temples of Durga Mata, Hanuman, Lakshmi and Ganesh around the Shiva Temple. During Shivaratri, many pilgrims in Mauritius walk bare feet to the lake from their homes to pray at the feet of the sculpture. Hinduism is the most widely practised religion in Mauritius after India and Nepal. Hindus constitute about 48% of the total population of Mauritius. Maha Shivaratri ("Great Night of Shiva") is one of the biggest Hindu festivals on the island.
Mankamaeshwar Shiva statue, Allahabad -108 ft
This 108 feet statue of Lord Shiva at Saraswati Ghat on the banks of river Yamuna in the holy city Prayag (Allahabad) is accompanied by a statue of Lord Ganesha and Nandi the celestial bull. The temple attracts hundreds of pilgrims especially for 'Shiva Pooja' on Mondays. The Pradusha Pooja is carried out every Saturday to remove all difficulties, blockages and wipe off the negative influences in the surroundings. The temple is a Siddh peeth of Adi Guru Shankaracharya. It is a small temple but very famous in Allahabad.
Adiyogi Shiva statue, Coimbatore, Tamil Nadu 112 ft
The magnificent 112 feet Adiyogi statue of Lord Shiva built out of 500 tonnes of steel at Coimbatore, Tamil Nadu is recognized by the Guinness World Records as the "Largest Bust Sculpture" in the world. Its height 112 ft, symbolises 112 ways to attain moksha as per yogic traditions as well as 112 chakras in the human system. Installed near the Adiyogi statue is a linga called Yogeshwar Linga symbolising the five major chakras in the human body. The Ministry of Tourism has included the statue in its official Incredible India campaign. Every evening at 7 pm a 3D laser show called Adiyogi Divya Darshanam is orchestrated narrating the story of Adiyogi and how the science of yoga was made available to human beings. In the yogic culture, Lord Shiva is not referred to as God but as Adiyogi or the first yogi who transmitted the science of Yoga to his seven disciples, the Saptarishis over 15,000 years ago.
Sarveshwar Mahadev statue, Sursagar Vadodara, Gujarat, 120 ft
A 120-feet tall statue of Lord Shiva known as Sarveshwar Mahadev stands in the middle of Sur Sagar Lake also known as the Chand Talao in Vadodara, Gujarat. It is one of the tallest statues in the world. It took nearly six years to complete the statue standing on 23 pilings that are 78 feet deep. The statue was installed by Vadodara Mahanagar Seva Sadan in this artificial lake in 2002. It is today a famous landmark in the city and is decorated with lights during Shivratri and other festivals.
Marudeshwara Statue, Karnataka – 123 ft
The 123 feet tall statue of Lord Shiva in Murudeshwar town in Uttar Kannada district of Karnataka is the fourth tallest in the world and the third tallest Shiva statue in India. Murudeshwar is another name for Shiva. The name "Murdeshwar" dates to the time of the Ramayana period when Ravana the king of Lanka worshipped Lord Shiva to gain immortality. The Murdeshwar Temple situated on Kanduka-Giri hill is surrounded on three sides by the Arabian Sea. It took two years to complete the huge sculpture of Shiva in a sitting position. The silver coloured statue with gold-coloured ornaments in the Murdeshwar Temple is designed to shine in direct sunlight. The Murudeshwar Temple also has one of the tallest Gopura in the world made up of 20-storied at a total of 249 feet.
Kailashnath Mahadev Mandir, Nepal 144 ft
Kailashnath Mahadev Statue is a 108 feet tall statue of Lord Shiva standing on 36 feet high ground at the Kailashnath Mahadev temple in Nepal about 20 km from Kathmandu. It is situated on the border of the Bhaktapur and Kavrepalanchwok districts in Nepal. The statue is made out of copper, zinc, concrete, and steel. It is believed to be the world's fortieth-tallest statue after the Statue of Liberty and one of the centres of attraction for both domestic and international tourists in Nepal, particularly from the religious tourism point of view. The construction of the statue considered to be a marvel of Nepalese engineering skills began in 2003 and was completed in 2010.
Shree Adhbhutnath Mahadev, Delhi 201 ft
Shree Adhbhutnath Mahadev – a 201.0 ft statue of Lord Shiva being built at Sultanpur Dabas in Delhi by Murtikar Chandulal Verma from Rajasthan – once complete will be the second tallest Shiva statue in the world and India. The construction work for the statue has been going on intermittently since 2012. The statue is being built using RCC cement which will be covered by a layer of copper to protect it from being corroded by the sun, rain, dust and pollution.
Viswas Swaroopam (Statue of Belief) Nathdwara, Rajasthan, 369ft
A 369-foot-tall statue of Lord Shiva known as Viswas Swaroopam or Statue of Belief at Nathdwara, Rajasthan is as of now the tallest Shiva statue in the world. Located at Ganesh Tekri hill, 45 kilometres away from Udaipur on a 51 bigha land it is easily visible even from a distance of 20 kilometres. The Viswas Swaroopam statue also known as the statue of belief is made out of 2,500 tonnes of refined steel. It is coated with zinc and painted with copper to protect it from rain and sunlight. The statue appears to be in a meditative posture and depicts Lord Shiva in a seated position with crossed legs — holding a Trishul in his hand.