There is no force more powerful than a woman determined to rise -Bosa Sebele
Dr Rosetta Williams, the innovative and enterprising CEO, of Dalmia Vidya Mandir, is breaking new grounds in the Indian education system with a continuous and futuristic learning spirit.
An award-winning educationist, Rosetta has over 30 years of experience in managing and leading educational institutions. She has not only managed and led various renowned educational institutes and new academic ventures, but also formed education policies across multiple locations in India and abroad.
Dr Rosetta Williams the versatile CEO, of Dalmia Vidya Mandir (DVM), is a torchbearer with a number of milestones in her 30-year-old career as an educationist.
Rosetta's desire and vision is to contribute towards 'Siksha' (education/literacy) in the true sense of the term. Her self-imposed pledge is to transform the lives of people around her and to ensure that each student manages to convert his/her dreams into reality.
The CEO of Dalmia Vidya Mandir believes in evolving standard operating procedures and systems driven policy initiatives — instead of a person-centric approach, in keeping with international best practices and emerging technology in the field of education and learning.
Dr Rosetta Williams has proven and time tested expertise in running schools, higher education, and skill training institutions. Her forte is to convert such organisations into centres of excellence. Her overall portfolio of expertise includes overall P&L management, operations, administration, infrastructure, HR, training and development. She also has sound knowledge and experience of curriculum development, teacher training, institutional development, administration, affiliation, academics and public relations. She has authored curriculum specifications for all boards, A levels and Baccalaureate Diploma Program and even rolled-out vocational institutions. She is a constant learner who has pursued a doctorate in education and authored 28 publications besides being proficient in content creation, and teaching methods in keeping with the best practices all over the world.
One of the first things she did after joining DVM one of the oldest chains of schools in India was to set-up an assembly line and system for regular follow-up, audits and appraisals under one roof. Her 360° approach involved — framing key result areas for training and mentoring every staff member to maximize productivity. This helped evolve a more effective and responsive teaching platform. Likewise, the school curriculum was mapped with a daily lesson plan for goal setting, as well as effective and result-oriented learning. The learning trajectory earmarked for every child was supported by remediation, counselling and constant monitoring. These distinct methodologies helped DVM upgrade to the next level of excellence.
Under Dr Rosetta Williams's leadership DVM which is affiliated with the CBSE board is providing affordable, yet contemporary, quality and extraordinary learning to children in far-flung places in the country. DVM not only provides holistic K-12 education but also crafts children as thinkers, sensitive and respected global citizens with a progressive outlook. The school enhances academics through quality teaching and result-oriented learning opportunities through fun and experiential learning. DVM takes immense pride in imparting an education that embeds strong Indian values in the minds of its students. In this journey, teachers play a major role and hence need frequent professional training, which not only uplifts their standards of teaching but also keep them aligned with the institution's vision and mission.
DVM today promotes value-based learning and opportunities for the holistic development of children. The ethos behind this is to help them to excel in academics, sports, arts and co-curricular activities. The school has introduced a unique 'Octave' (Ashtabhuja – Content (Tatva), Teachers (Adhyapak), Parents (abhibhavak), Assessment (aankalan), Enrich (sampannata), Life skills (Jeevan nipunta), Network (Sanjaal) and Infrastructure (Sanrachana)) teaching technique. Besides providing equal learning opportunities to every child, this approach helps to develop each child's unique talent and potential – thus enabling them to make their career in any field.
Efforts like these by the school management have helped DVM make a name for itself in the field of education. In 2018, DVM Dalmiapuram was awarded 'High Performing School' by Indian Education Congress; likewise, DVM Rajgangpur bagged the award for being the best CBSE School in Odisha.
Dr Rosetta Williams's ultimate dream to develop DVM as a unique brand in the field of education, sports and extracurricular activity sector. This involves offering a level-playing field to students of all DVM schools wherever they are. This may seem impossible but is very much possible with the support of the promoters, staff and parents.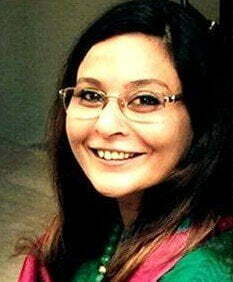 Prior to joining DVM, Dr Rosetta Williams has worked with a number of prestigious educational institutes like Edexcel London, and American School and also served as the Founder Principal of seven Delhi Public Schools as a highly acclaimed academician of Delhi Public School Society. In course of her professional journey, she was Regional Director of Zee Learn and Director of Presidium Schools before her current role at Dalmia Bharat Cement's educational vertical pan India.
Teaching is an inherent part of her upbringing and present in her DNA. She started her professional career as an English teacher in various reputed DPS schools.
As the Regional Director (North) for Zee Learn Pvt. Ltd. She managed 275 Kidzee and 75 CBSE Schools and worked as COO of Radcliffe – a chain of schools. The exposure at Radcliff boosted my experience and expertise across almost all Indian states. Besides, I took various initiatives and launched a bouquet of schools and crafted the existing schools into centres of excellence.
The need of the hour according to her is – transformative leadership.
Dr Rosetta Williams has won many awards for excellence in the field of education and learning. These include Dr A.P.J. Abdul Kalam professional excellence in Education award, Outstanding Leadership Award for contributions towards the betterment of education, Indira Gandhi Priyadarshini Award, Millennium National Teachers Award and Educationist of the year -2009 from Indian Achievers Podium. The crowing glory of her career was when she received the Sarva Shiksha – Empowering India Award from Ramesh Pokhriyal the Union HRD Minister at The Hotel Park, New Delhi on March 5, 2020
As she says it is a continuous journey and:
Innovation in education should never stop…