Lt. Gen. (Dr.) N. B. Singh, PVSM, AVSM, VSM, ADC
Lt Gen N B Singh served as Director General of the Corps of Electronics and Mechanical Engineering (DGEME), Director General Information Systems (DGIS) and was a founding member of the Armed Forces Tribunal, Jabalpur. He specializes in armored fighting vehicles and played a key role in the design and development of bullet proof vehicle Takshak, Arjun Armored Recovery vehicle and made significant contribution in the development of the Dhanush gun system. He has undergone specialized training in Germany on off highway vehicles and served in Moscow as Military Attaché Technical.
The Kolkata based OFB with 41 Ordnance Factories under its fold is to be reorganized into seven corporate entities on the lines of defence public sector undertakings (DPSUs) based on the nature of manufacturing and technologies.
The main Ordnance needs to be Indian and ultra-reliable, unlike the 125 mm gun system in use currently in medium tanks. It may be a good idea to integrate a re- engineered 105 mm gun in the interim and an optimized 120 mm low recoil gun system later, both are Indian systems and have proven to be effective.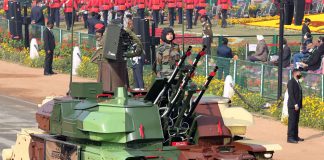 Even after 15 to 20 years of manufacturing, it is disheartening to see a fair number of systems and components either on the import list or where indigenized giving an engineering life of about 50% or less.
Operation Desert Storm was the first instance when space capabilities were used to enhance operational effectiveness and battlefield agility of armed forces. Satellites today can support forces in a wide array of fields like early warning, attack assessment, satellite communications, surveillance, environmental monitoring, navigation and positioning, space control, ballistic missile defence, etc.
The PM has been echoing the call for self-reliance on numerous occasions, post-onset of COVID 19. The recent standoff at the LAC has once again made security strategists revisit the issue of the location of supply chains in a country where openness and transparency are not consistent with what prevails in the democratic world.
WCVs are capable of self-deploying over long distances and the crew arrives in the operational areas relatively less fatigued, while TCVs look for tank transporter for deployment, making them vulnerable during moves.
It is being argued that the GOCO model will bring in corporate culture, leading to efficiency and accountability. Private operators can easily get into partnership with Original Equipment Manufacturers (OEM), and arrange the required expertise and spares. But what is the guarantee that they will be able to do so - better than the existing set-up. What if they can't?